Cerberus is an avatar who is the cross-dressing entertainer at the Mysteries Burlesque Club in New Cap City.
Joseph Adama seeks his help to find his daughter, Tamara, in New Cap City. Before Cerberus will help him, he tells Joseph he must answer a riddle. If he does not answer the riddle correctly, he will be shot and killed, therefore banned permanently from the game.
As the gods overthrew the Titans, so has man overthrown the gods. But when man visits his sins upon his children, how shall he be repaid?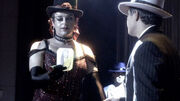 Joseph cannot answer the riddle, but he thwarts Cerberus' attempt to kill him. Cerberus then tells him that Tamara was there seeking the answers to the afterlife. When she answered the riddle incorrectly, they, "...discovered she had the power to transcend life and death... Maybe she's found the answers that everyone's searching for or maybe she is the answer."
Notes
The answer to the riddle may be a foreshadowing of the Cylon attack upon the Twelve Colonies fifty-eight years in the future, when the events of Battlestar Galactica (2003) take place.
The Cylons are the Children of Man. In a conversation between Aaron Doral and Number Six:
Six: "We're the children of humanity. That makes them our parents in a sense."
Doral: "True - but parents have to die. It's the only way children come into their own." (Battlestar Galactica: Bastille Day)
Cultural References
See Also
Community content is available under
CC-BY-SA
unless otherwise noted.