Welcome to
Wiki

Things to Do
---
Grab a "Random Page", and see if there's something to be done.
Look at the transcripts, particularly the newer ones, to see if they need work or review.
Look at the drafts and provide comment or help complete the pages.
Correct discrepancies between aired episodes and episode pages.
Correct discrepancies between episode pages and other article pages.
Error corrections: Is there something on an episode page or elsewhere that doesn't read quite right? If it's wrong, fix it.
Check out and comment on: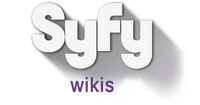 Community content is available under
CC-BY-SA
unless otherwise noted.